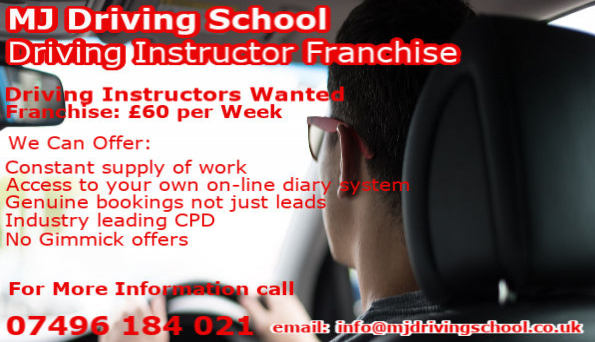 Driving Instructors Required Now in Leeds & Surrounding Areas
MJ Driving School in Leeds are in need of more quality driving instructors in Leeds and surrounding areas to join our team due to a large increase in demand.
Our benefits include:
Low cost weekly franchise
No tie-in contract
Online diary booking system which helps keep you full and busy
The best CPD and standards check training
Franchise free weeks / holidays
Very good hourly lesson rates
For more information on our franchise package please call or text us on 07496 184 021
ADI Driving Instructor Franchise
Looking to train and become a driving instructor?
MJ Driving School provides you with industry leading training on a one to one basis with one of the UK's top trainers with a proven track record of success
For more information on training to become a driving instructor please contact Michael direct on 07720 396 100
MJ Driving School also provides top quality Standards Check training for qualified driving instructors or those needing help for the part 3 test.
Learning to Drive / Driving Lessons
MJ Driving School provides quality driving lessons and intensive driving courses in the Leeds and surrounding areas
We have availability for driving lessons in Leeds, Wakefield and Bradford
For those looking to learn to drive in a manual car, we have great deals.
Beginner driving lessons 3 hours just £60 the perfect starting place for those with no previous experience.
If you have driven before why not take one of our assessment drives just £45 for 2 full hours.
If you are looking to learn to drive in an automatic car then we offer a 1.5 hour assessment drive at just £40.
Driving-Lessons-Leeds
Driving Instructor Training Leeds
Driving Instructor Franchise Leeds
Driving Schools Leeds